1 - com_myplayer.zip MyPlayer component
MyPlayer component for Joomla will allow each of your site members to have a MP3player page (standalone or integrated with CB, Jomsocial and EasySocial).
MYPLAYER

 

REQUIREMENTS

Joomla 3.4+

 
MYPLAYER INSTALLATION
The component archive is the first thing to install. Go to your Joomla administration extensions installer. From the top menu select 'Extensions' and 'Extensions manager'. From the file uploader go to your harddrive folders. Browse and select com_myplayer.zip (you need to unzip com_myplayer_UNZIPFIRST.zip first). Click INSTALL button and the component will be installed on your Joomla setup. In the admin, under the 'Components' menu you'll have a new 'MyPlayer' menu item listed with Tracks and Options shortcuts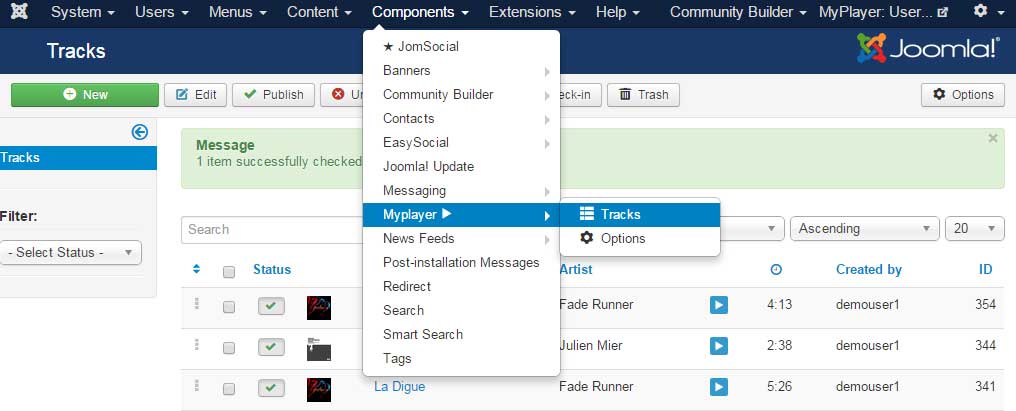 OPTIONS 
MyPlayer tab
Profile Manager: If you use a 3rd party profile manager, you can set it here or leave 'standalone'. This will let the component know how it should build links to profile player and how to process activity stream announcements if enabled.
Enable Activity Stream: (Jomsocial and EasySocial only) Should new tracks be announced in activty streams? The activity stream announcement mentions who added the track with a link to own profile and shows a HTML5 MP3 player for the added track so it's straight away listanable from the stream.
Enable Local files: Should users be able to upload files to the server ? You can disable this if you enable distant files to be added. in that case only files hosted on other server could be added to user players.
Enable distant files: Should users be able to link to distant files (from other servers) when adding tracks to their own player. You can disable this is you want user to only be able to add files to your server.
Default Maxfilesize: You can limit the default maximum file size for uploaded files. Know that the true maximum limit is set by your server settings in the php.ini.
Default Maxtracks: You can limit here the maximum amount of tracks a user can add. Leave zero to have no maximum.
Enable Podcast: Should user have their own podcast feed generated. The user podcast feed url is basically the same as player's url with the format=feed parameter added. If you want the full site wide podcast feed , simply remove the userid parameter. The podcast gets automatically disabled if default_privacy for players is not set to public.
Enable Popup: this will allow visitors to open players in a popup. Popup player is basically the main player page open with a tmpl=component parameter added to URL so the tamplate is not loaded.
Popup width and height: These parameters allow you to set the popup window dimensions. Default are 510x250.
Default Privacy for players: this setting allow player owners to decide who can view their player.
Sharing Features tab
Enable embed: This allows user to embed the player as an ifram in other webpages.
Enable QRcode: this shows a QRcode to easyly open the player on a mobile device. This requires a QRCode reader application on the mobile devide to scan the code using its camera.
Enable sharing: this shows the sharable url of the player.
Facebook parameters.
Facebook Appid: It is recommended you create a app at https://developers.facebook.com/apps/
If you leave the appid empty facebook features will be disabled in MyPlayer.
ACL : ACCESS CONTROL
The component takes advantage from the core Joomla ACL so make sure you apply the appropriate setting to MyPlayer component ACL table. For instance you can choose to have registered users tracks submission automatically enabled etc...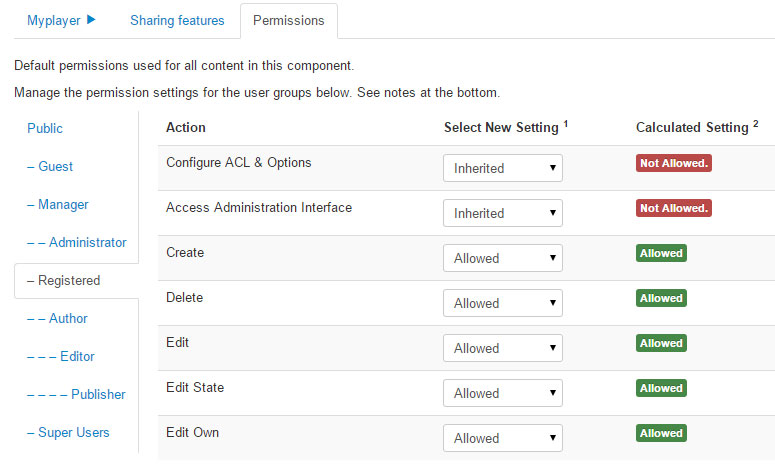 You can also set some permissions for Public so they don't get 500 error pages. Whatever you set for Public, the component will override and limit these permissions to prevent public users to add or edit content.
TRACKS ADMIN MENU ITEM
From the admin you can access the list of latest added tracks. That page shows a list of tracks in a table. It can be filtered, reordered. Tracks can be listenend, edited, deleted etc...
FRONT END MENU ITEMS
The component itself has 5 distinct pages to get the best of a personal mp3 player, playlist and podcast features.
To let your users use MyPlayer, you must add MyPlayer's menu items to an existing published menu (Main menu for instance)
Go to your admin 'Menus' menu item from the top menu. Then go to 'Main menu' -> 'Add new menu item'. Click 'Select the 'Menu Item Type'. In the list, expand the MyPlayer box and select one of the 1 - Player page (This one is mandatory for MyPlayer to work at tis best, especialy when it comes to sharing Myplayer page player page.)

You can repeat this for every of the MyPlayer Menu Items types.
Player: Personal Player. Mandatory menu item
TrackForm: Let users add tracks
Tracks manager: Let users edit tracks and manage tracks order
Player Customizer: Let users customize own player look and feel
I - Player
This is the main player page. It shows a HTML5 responsive MP3 player of the tracks added by viewer or for a specific user defined by userid parameter in the URL (visible when sef disabled). This player is based on soundmanager2.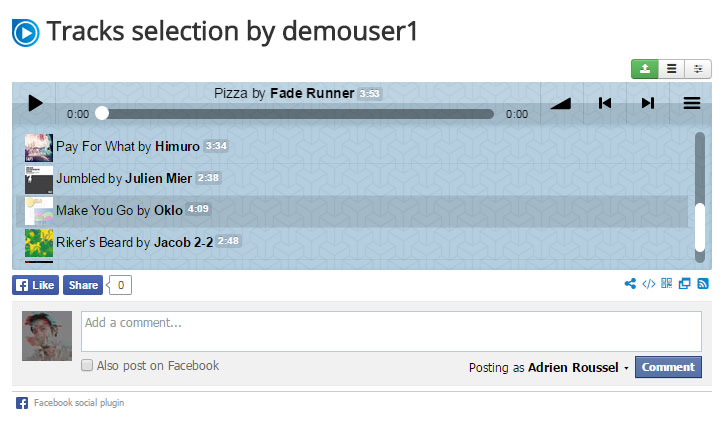 The top right buttons are shortcuts to other Myplayer related pages: Add a new track, tracks manager and player customizer.
The bottom right buttons show various options (if enabled as described in the previous Options section of this documentation)
Share URL
Embed player iframe code
Share to mobile via QRCode
Open in popup
Podcast URL
The facebook features are only enabled when you add a Facebook App ID in the component settings. It also adds related Open Graph meta tags to the page. The og:img tag is  components/com_myplayer/assets/img/fbicon.jpg . This is the image that will be shared on FB and other social networks when liked, commentes or shares. 
II - Add a new track
This page shows the form used to add or edit a track.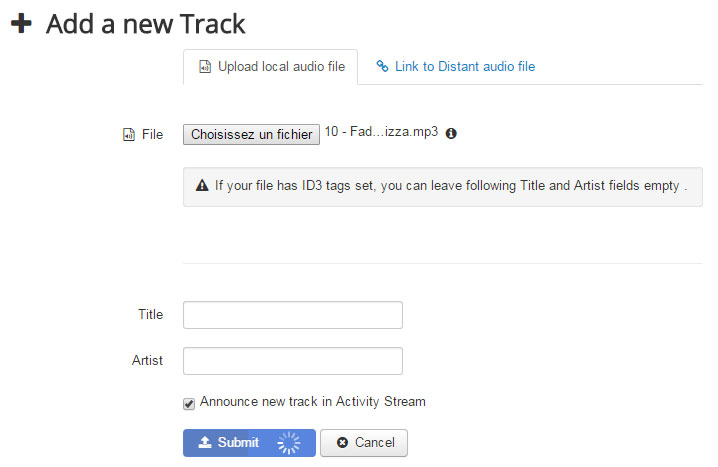 First user has to select if the new track has to be uploaded or linked. If uploaded, the component will read the file ID3 tags if set and store get artist, title, duration, genre and cover information and store these in the database and in the covers folder.
III - Playlists Manager
Since Myplayer1.1 , users can now manage playlists from the new Playlists Manager page. This feature has been introduced in the most userfriendly way, but here are some usefull informations about it:
Users can manage as many playlists as they want. You can see a playlist as a folder for tracks
The new playlist database table has Title (+ Alias), Description and privacy fields.
Each playlist can have its own privacy setting (Public, Registered, Friends (If CB Jomsocial or EasySocial is on) , Me only)
A track can be assigned to multiple playlists
Each playlist player has distinct customization settings.
Playlists can be ordered with drag& drop and the top playlist is automatically set as the 'Spotlight Playlist'. This means this is the default playlist to be displayed when visitors visit your profile player.
Each user also has a default falke playlist for Latest tracks. This latest tracks playlists privacy settings are to be set globally by Admin in the component options. 
IV - Tracks Manager
This page will allow user to manage tracks, delete, edit tracks info and reorder with drag and drop. This tracks manager lets users edit tracks per playlists.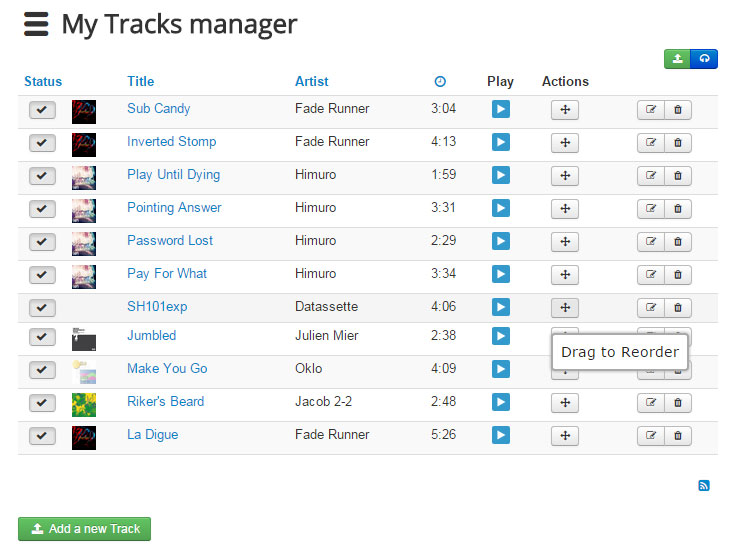 V - Player customizer form
Each user is able to customize the look and feel for his own player. This styling will be visitble to visitors when viewing the player and to own activity streams announcements player. The style is hardcoded in the Activity Stream player. this means that if a user applies changes to own player style, it won't be applyed to previous activities players.
Here are the options of the form:
Color: hexadecimal color code. This field has a color picker included. For technical reasons this is not the default Joomla colorpicker.
Opacity: This field lets user set the player main opacity. It's a simple slidee. Opacities valies vary from 0 (invisible) to 1 (visible)
Texture: These are images textures / wallpaper for users players backgrounds.
They are stored in the components\com_myplayer\assets\soundmanager\bar-ui\image\patterns folder
If you want to add some you can add it to this folder. Users will be able to select it. Make sure you don't add heavy files there !
Text light: if your player background is dark, set a light text, if your player background is light, set a dark text. Only a common question of contrast and readablity.
Flat: will the player look flat or with a little glossy/shadow effect on top.
Conclusion
This is what you need to know about the component. If you want to integrate it with Community Builder, Jomsocial or EasySocial, keep on reading the newx pages.
If you don't, you can simply skip to the latest tracks module page.
If you need to import tracks and playlists from old MyPlayer plugins, read this about mod_myplayer_migrator
Created on .
Last updated on .