3 - mod_myplayer_latesttracks front end module
mod_myplayer_latesttracks is a module that displays latest tracks that have been added to the site by users. It comes with 2 layouts. First layout shows tracks nested as a playlist in one player. It's great but unless you use EasySocial, there is no way to link tracks to their respective uploader's user profile. The secong layout shows tracks as separate players in a 'Activity Stream' kind look. This allows to link to user profiles, whatever the profile manger you have installed and to render customized layouts.
This module installs via the regular Joomla installer. 
Options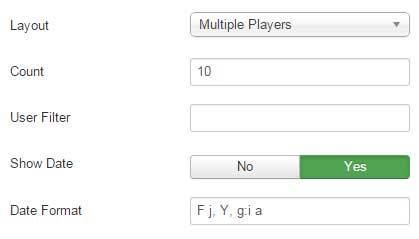 Layout: Choose between Displaying latest tracks in one player or a player per track
Count: How many latest tracks to display ?
User filter: You can filter the player to only show latest tracks from a specific user ID
Show date: Date of the track addition
Date Format: PHP date formating as described at: http://php.net/manual/en/function.date.php
If required you can set multiple instances of the module on hte same page.
Module can be translated , editing or adding language files as languages/en-GB/en-BG.mod_myplayer_latesttracks.ini
Created on .
Last updated on .