mod_myplayer_migrator backend module
mod_myplayer_migrator backend module
This module is only required if you used previous version of Myplayer for Community Builder or Jomsocial.
Before using this module , it is important that the com_myplayer.zip component is installed. This module requires some librairies included in the component.
This module is an admin module. It installs as a regular Joomla module via the Joomla extensions installer. As an admin module it will only show in the module list if you filter it by 'Administrator'.
There is only one setting: Mode.
TEST : mode will do nothing but listing what it finds
Populate DB only : will read the old playlist for tracks and scan files to populate the new database table with tracks info from the playlist files and track ID3tags
Copy files only : will only scan the old directories (media/userplayer/[userid]/) and copy tracks listed in the playlist files to new tracks directories:
media/com_myplayer/tracks/[userid]/ 
Copy files and populate DB : this is the combination of the 2 previous options.
Copy populate and delete files : this si the same as previous options, but it will automatically progressively delete MP3 files from the old folders.
Enable it and set it to the cpanel module position.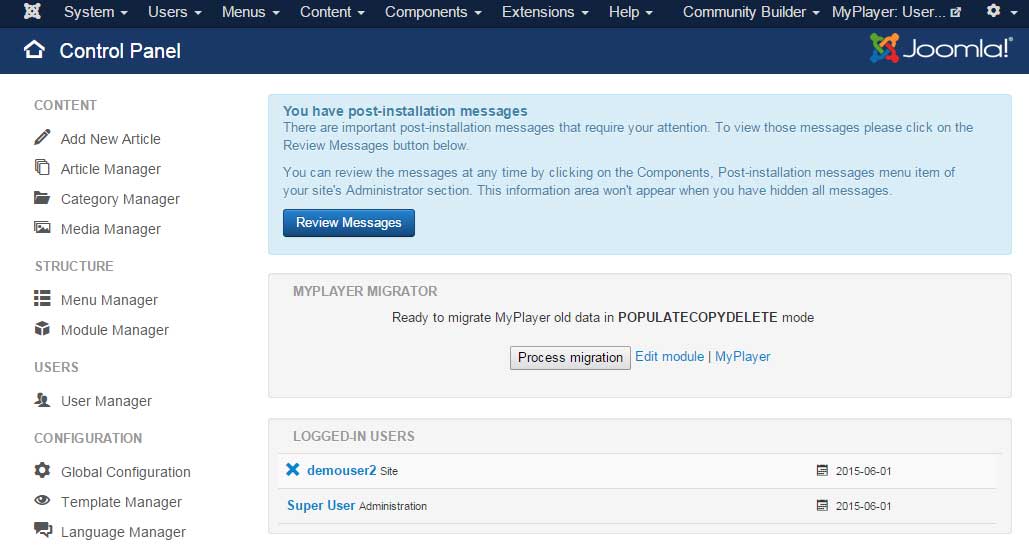 Created on .
Last updated on .