VM Share plugin for Virtuemart
VM Share plugin for Virtuemart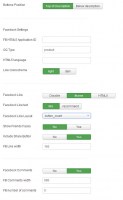 Description



This responsive content plugin for Virtuemart 2 & 3  shows at the top or bottom of the product description, social share and like buttons from LINKEDIN, TWITTER, GOOGLE PLUS, PINTEREST, FACEBOOK (like, recommend , share, send , comment)  (iframe or HTML5) . It is multilingual by detecting your site's current language, but you can also force a language from its settings. It includes all the required and product related OpenGraph tags such as og:type, og:url, og:site_name , og:description, og:image etc... 
It installs via the regular Joomla installer.

Enable it and also make sure content plugins are enabled in VM configuration.
Current version: 1.7
Tested succesfully on VM2.6 on Joomla 2.5 and VM3 and Joomla 3
Demo? Just like displayed on this page.