VM Share plugin for Virtuemart
VM Share plugin for Virtuemart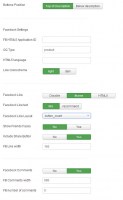 Description


This responsive content plugin for Virtuemart 3  shows at the top or bottom of the product description, social share and like buttons from LINKEDIN, TWITTER, GOOGLE PLUS, PINTEREST, FACEBOOK (like, recommend , share, send , comment)  (iframe or HTML5) . It is multilingual by detecting your site's current language, but you can also force a language from its settings. It includes all the required and product related OpenGraph tags such as og:type, og:url, og:site_name , og:description, og:image etc... 
It installs via the regular Joomla installer.

Enable it and also make sure content plugins are enabled in VM configuration.
Demo? Just like displayed on this page.
Product Tags